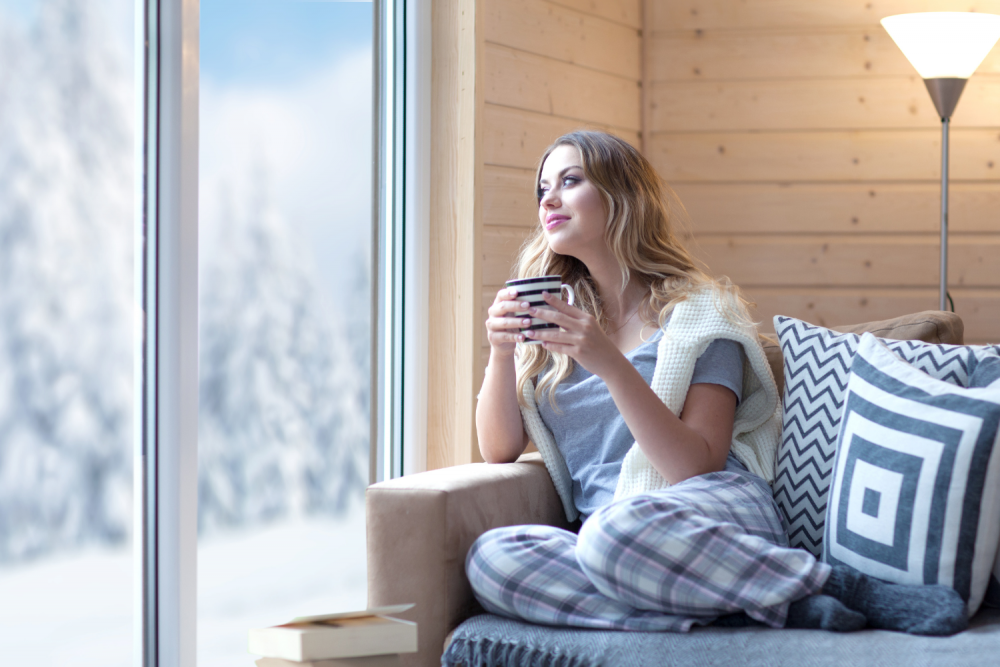 Preparing your solarium for winter is necessary for its longevity. Preparing your solarium means maintaining it well, but also having it inspected. In order to avoid unpleasant surprises during the winter, and to enjoy it throughout the year, you must inspect your solarium.
To have your solarium inspected, you must call on the services of experts. If you need to have your solarium inspected before winter, contact us now!
To help you prepare your solarium before winter, you can carry out a preventive inspection yourself. You will find in this article the elements to observe, in order to have a 3-season or 4-season solarium ready for winter!
Start by taking a quick tour of the space and focus on visible damage.
Pay special attention to windows with single panes. These are less energy efficient. They can play a big role in the insulating efficiency of your solarium.
Maybe it's time to change the simple panes of your windows to thermos panes? Basco's experts can help you with all things thermal glass!
Also remember to check the insulating efficiency of the door that connects your house to the solarium. If it's, you will see your heating bill increase rapidly! The tightness of this door is required to prevent water infiltration into your home.
Check the sealing 
The sealing of your solarium windows is one of the most important aspects to inspect. In fact, up to 25% of heat loss in a home is attributable to windows and patio doors. A solarium that is not waterproof in winter could therefore result in an increase in your heating costs…
Poorly sealed windows will not only let in cold air, but will also make your solarium vulnerable to water infiltration…
How to check the sealing of your solarium windows?
Start by making a visual observation. If you notice signs of damage like mold or stains, your window seal is defective.
Then you can easily observe the presence of condensation. If one or more windows in your solarium are fogged up, it might be time for a demisting service. Foggy windows could also be the cause of mold and stains near windows.
The next steps consist of checking the condition of the caulking, weatherstripping and mechanisms.
Check the caulking
Check the caulking of your solarium once or twice a year, before winter and after winter. Caulking plays an important role in insulating your sunroom. It is in direct contact with the outside weather. It is therefore very vulnerable to damage that can be caused by large variations in temperature.
Over time, it is normal for the sealant to deteriorate. Cracked or dried out sealant needs to be replaced. Otherwise, cold, water and insects could seep into your home.
To replace the caulking, it is recommended to use professional services. The sealants used by Basco's experts are of high quality. Made of silicone, they are designed to resist mold and moisture.
As they are waterproof and odorless, our sealants are unaffected by weather or temperature variations. They are unique in the market.
However, if you choose to do it yourself, you will find silicone-based products at hardware stores. Be sure to get a product for both exterior and interior use. Make sure to follow the product instructions because otherwise, if it is incorrectly applied, you risk air or water infiltration.
Check the weatherstripping
Check the weatherstripping of your solarium, just as you do for the caulking. The primary role of weatherstripping is to block air leaks. This is therefore another element that directly reduces the insulating capacity of your solarium.
If the weatherstripping cracks or begins to come off, replace it.
To replace your weatherstripping yourself, it is possible to get some at a hardware store. However, the range of choices might mislead you. Also, make sure you have the skills to replace them. If not, seek professional services.
Badly installed weatherstripping could affect the performance of your solarium:
• Loss of energy efficiency
• Feeling of discomfort
• Possibility of seeing localized frost
• Likelihood of smelling air leaks
Check the mechanisms
Check the mechanisms of your solarium at least once a year! Over time, wear and tear is normal. Mechanisms may become more difficult to operate.
Each of the mechanisms, whether it's the cranks, the locks or the hinges, are replaceable and repairable! Nothing is more unpleasant than a door or window that squeaks when opened. To remedy this, change the damaged parts and mechanisms.
To keep your solarium hardware in good condition:
• Never force the mechanism, this will eventually cause the gear to break
• Use the window latch to close it tightly
If you notice slight friction, apply a silicone-based lubricant. It is recommended to apply the silicone-based lubricant at each change of season.
In short…
A semi-annual verification of your doors and windows will allow you to detect any anomaly, remedy it and extend the life of your solarium while avoiding the major investment of a complete replacement of your windows.
For any questions or service request, call on the excellent service of Basco Doors and Windows, get a free quote!