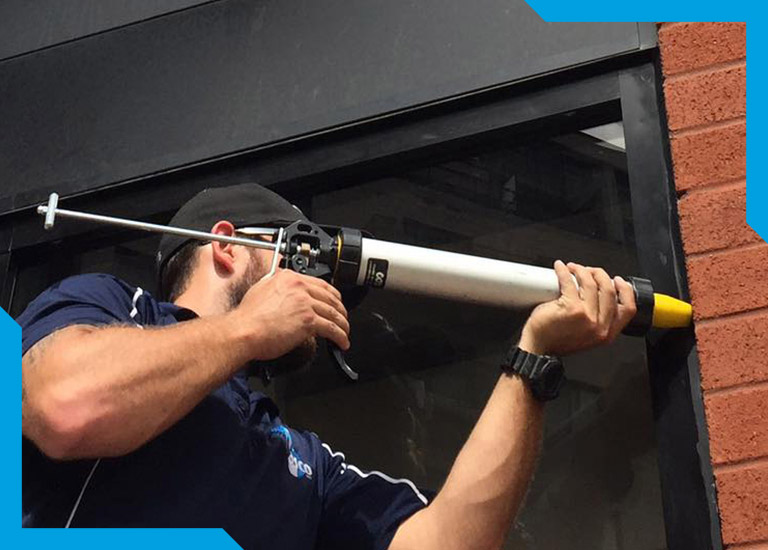 Residential service
Our

caulking services
Caulking is a major component of maintenance. Besides ensuring airtight seals, it also provides your windows and doors with maximum waterproofing. Moreover, it improves energy efficiency during the summer as well as mid-winter. Learn more about the caulking benefits for residential or commercial buildings below.
Receive a quote
Windows and Doors are well insulated when sealed properly. However, they are constantly exposed to bad weather, shifts in weather forecasts and temperatures variations. Consequence: dried up seal. When the seal is dry, cracked or peeling off, it becomes an open door to air and water infiltrations.
Caulking can rectify the issue. Allowing for the optimal performance and energy efficiency of your windows and doors while avoiding unpleasant surprises. Therefore, think of calling for Basco Windows and Doors professionals to regularly inspect your seals.
RESIDENTIAL CAULKING BENEFITS
Your home is a lifetime investment.
Therefore, wanting to care for it is understandable. Caulking is a good place to start. When your windows and doors are sealed properly, it prevents damp and cold air from entering your home. It ensures your comfort and that's not all.
In fact, humid air may gradually cause invisible damage to your home. Water infiltration may show 3 different destructive signs:
Mushrooms

Mildew

Extensive structural damage
DEMONSTRATED MASTERY SKILLS BY BASCO WINDOWS AND DOORS
At Basco, we train our technicians according to the highest standards in our industry. This is why we can guarantee that we master the art of caulking. This is what a visit should look like:
Technicians remove old seals from your windows and doors

They install new seals diligently

They work neatly, only leaving behind them, your brand new seals
Our Basco professionals work with top-of-the-line sealers. Silicone based, they are made to withstand mildew and humidity. Odorless and leak-proof, our seals are resistant to bad weather and temperature variations.
Our Basco professionals in windows and doors, repairs and restoration, offer a plethora of caulking services. From insulating a solarium to restoring a commercial entry door, you can count on us.
In fact, why not take the opportunity to ask for a weatherstripping estimate while our professionals visit you to perform new seals? According to their condition, we may recommend replacing them with new ones.
Contact us today
BASCO WINDOWS AND DOORS AREAS OF EXPERTISE
Our teams dispose of the equipment and expertise required to perform caulking services in residential or commercial settings. Our professionals are also trained to perform works-at-height when necessary. Following are few areas of expertise.
Windows

Grout

Window wall
Window-door

Garage doors

Sky lights
Solariums

Canopy

Works-at-height
10 YEARS warranty* ON CAULKING
*Certain conditions apply
Thanks to Basco Windows and Doors network, we have access to the greater manufacturer across Canada.
Receive a quote