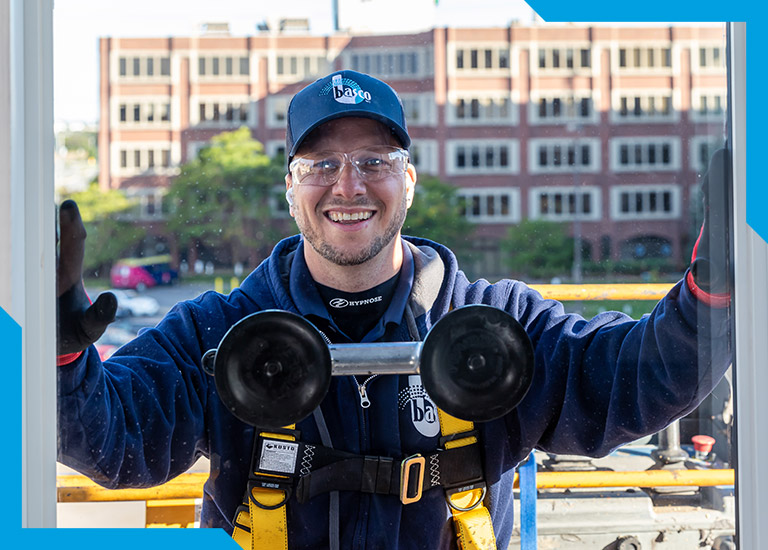 Residential service
Our services

Thermal pane replacement
Rain or shine, your residential or commercial thermal panes allow you to make the most of it. Composed of two or three sealed units, they offer you exceptional thermal insulation.
Your window is constantly exposed to weather elements and overtime, the seal may crack. When this happens, it causes the humidity to enter and condense in between both window panes. This phenomenon causes the appearance of fog in your windows. A window that presents a broken seal will not provide efficient insulation.
In such circumstances, you might be tempted to entirely change your window. However, have you considered thermal panes replacement? Thanks to Basco Windows and Doors expertise, thermos panes replacement is a cost effective and eco friendly option.
Receive a quote
Residential thermal panes replacement
As a homeowner, you want to be able to fully enjoy your investment. After all, feeling comfortable in your own home is to be expected. Poor insulation of your thermal panes may however hinder your comfort, especially in regards to thermal standards.
Thermal panes replacement can improve your quality of living as such. Mainly, your windows are a key component in your property valuation. By replacing your thermal panes, you restore their effectiveness as well. Moreover, this procedure may revitalize the look of your home. By doing so, you are protecting and increasing its value.
Furthermore, replacing your thermal panes is quick and much less expensive than changing your windows entirely. Effective, it allows you to prolong the lifespan of your windows. This way, you can enjoy the comfort in your home for years on end.
Lastly, it is a proven energy cost saving procedure. Poor insulated thermal panes will let cold air filter in which has you spending more to maintain a comfortable temperature. New thermal panes will solve that issue.
Commercial building thermal panes replacement
Whether you are a real estate manager or business owner, replacing the thermal panes of your building is a sound investment. Thermal panes replacement withstands the test of time and may allow you to prolong their life span up to 10 years, or even more. You will benefit from energy cost savings as well.
New thermal panes may also offer greater protection for your business, especially when reinforced with anti-intrusion glass. Why not profit from the added security while replacing your thermal panes.
Replace your thermal panes with Basco Windows and Doors
Choosing Basco Windows and Doors to replace your thermal panes, it is choosing to do business with the largest network established since 2005. All of our technicians are trained according to the highest standards in the industry in order to deliver an impeccable timely service. Although, replacing your thermal panes offers many more advantages :
A swift and eco friendly procedure

The thermal panes replacement is cost effective. Indeed, the cost of this procedure is a fraction of the price of changing entire windows. In few instances, the costs can be reduced by half or even by 75%.

An eco friendly solution

The thermal panes replacement increases energy efficiency. However, its impact on the environment is less than changing entire windows. This procedure allows us to reduce the amount of glass and debris filling up our landfills. What's more, the work rendered by our team is guaranteed for a period of 15 years.
Choosing the best type of glass to replace your thermal panes
There are a plethora of glass types to choose from when looking to replace your thermal panes. You can count on Basco team members to guide you towards the best decision. Choosing the right glass is critical because it may provide a sound barrier as well as increase your comfort.
Should you be preoccupied by energy efficiency, opt for low emissive glass. Made out of a thin metal oxide layer, it reflects heat within during the winter and out during the summer. Thus, your home remains comfortable regardless of the weather outside.
Receive a quote